So let's say I'm out with friends one night and LO AND BEHOLD!

That's Mr. Vin Diesel over there!

OHMYGAAAWWWDDD!

What WOULD I do?

Honestly, I am not the type to interrupt another person's evening out just because I find
myself in the unique position of being in the presence of fame. That's just not MY style.

AND REMEMBER THAT THIS IS ME I'M TALKING ABOUT!!!

I am CERTAIN that fame expects, accepts and sometimes even enjoys those kinds of interruptions!

It's all part of that game -- and he willingly signed himself up for it.

HOWEVER -- as I was a cat in my last life, curiosity would most absolutely get the better of me. I would HAVE to know what he was eating, drinking, what he SMELLED like -- all that useless information that is such fun!

So I would excuse myself from my table, do a walk-by (fifteen times) and proceed to the bathroom.

(And for all anyone OUT THERE knows, I have.)

Scenario #2


(The "I Have Nice Angels And They're Doing Me A HUGE Favor" Scenario)

So let's say that I'm at a party/club that OHMYGAAAWWWDDD!!! Mr. Vin Diesel is at
and the person I'm with KNOWS HIM and OHMYGAAAWWWDDD!!! introduces me to him.

What WOULD I do?

I would very politely shake the man's hand, and tell him that it is an honor to meet him.

Then I would get an itch in my nose.

So I would scratch my nose.

Then I would wonder if the scratching of my nose loosened some mongo-snot-wad.

Then I would wonder if Mr. Diesel could SEE the possibly loosened mongo-snot-wad.

So I would excuse myself from his presence and proceed to the bathroom.

(And for all anyone OUT THERE knows, I have.)







Scenario #3


(The "There's Been A Subsequent BIG BANG! In The Universe" Scenario.)

So let's say that I found myself to be in an intimate situation with OHMYGAAAWWWDDD!!! Mr. Vin Diesel.

What WOULD I do?

First I would curse myself for having added extra garlic to that lasagna.

Second, as I have yet to muster the courage to take on waxing, I would panic over the state of my legs.

Then I would panic over him seeing my feet. I hate my feet.

Then I would panic over him seeing my breasts. I hate my breasts.

Then I would panic over him seeing my butt. I hate my butt.

Then I would THANKGOD! I stopped taking the pill because plastics can be FUNFUNFUN!!!

Then I would PANIC! over having stopped taking the pill even though plastics can be FUNFUNFUN!!!

Then I would panic over WHATINPANICGOD'SNAMEPANICISPANICHEPANICTHINKINGPANICABOUTPANICMEPANICRIGHTPANICNOW
OHMYGAAAWWWDDDPANICOHMYGAAAWWWDDDPANICOHMYGAAAWWWDDDPANICOHMYGAAAWWWDDDPANIC!!!!!!OHMYGAAAWWWDDDOHMYGAAAWWWDDDOHMYGAAAWWWDDDNONONONONONOPANICPANICPANICPANICPANIC!!!DAMNITALLTOHELLSTOPSTOPSTOPI'MINTHEMIDDLEOFAFULLBLOWNF'ING(LITERALLY)PANICATTACK!!!

So I would excuse myself from his presence and proceed to the bathroom.

(And for all anyone OUT THERE knows, I --- wellllll, I PROBABLY HAVEN'T done this one. Yet.)

Pretty much, what it comes down to is that no matter which scenario you put me in
where I might actually be in the presence of OHMYGAAAWWWDDD!!! Mr. Vin Diesel,

I WOULD END UP IN THE F'ING BATHROOM!!!

What the HELL do you think THAT is all about?

Some Freudian thing, maybe?







Y'know -- WHAT-EVER!

I don't care.

It doesn't matter.

I don't buy into Freud anyway.

I mean, the only thing about the penis that I envy is his ability to pee standing up.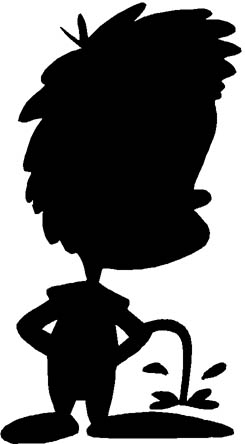 WELLALLRIGHTYTHEN!!!


THAT said, how 'bout we move on to a safer and less volatile subject?!