LET'S TALK MOVIES!


BE ADVISED -- I have used pictures based on convenience rather than film.

AND the films aren't even in the correct order.

But like I've said, NOTHING in Hell is sacred.

***NOT EVEN MR. VIN DIESEL***

You don't like it --->>> go away.

However, you'll be missing quite a humorous and unique look at this man's filmography if you do.

AND I WANT YOU TO STAY!!!





Really.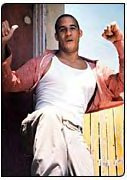 Looks like he's ready for it, yes?

OkeyDokey!

The tour moves on!!!